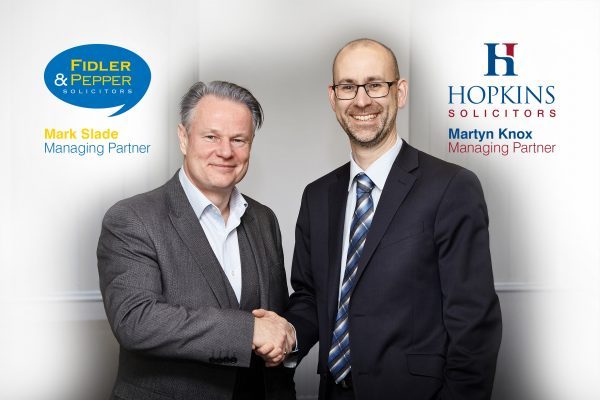 Deal sees two long-standing local law firms plan together for future success
Two leading local law firms, Fidler & Pepper Solicitors and Hopkins Solicitors, have announced a combined business deal that will be a catalyst to help both firms to accomplish their future growth plans. The deal is due to be completed early in April, 2017 at which time some of Fidler & Pepper's current cases will transfer to Hopkins.
For Fidler & Pepper Solicitors in Sutton and Mansfield, the deal will allow them a platform to focus their future as a Private Client and Conveyancing practice specialising in Conveyancing, Wills, Probate, Power of Attorney and Trusts. The firm will be retaining both its offices in anticipation of growing its legal team of experts.
For Hopkins Solicitors in Mansfield and Nottingham, the deal gives them the opportunity to take on Fidler & Pepper's existing Family, Litigation and Business work. This expansion will see the opening of a new Hopkins Solicitors office in Sutton-in-Ashfield, with some of Fidler & Pepper staff joining the Hopkins team.
Mark Slade, Fidler & Pepper's Managing Partner, said: "We truly believe that this change will provide us with an opportunity to focus on business areas that we can shape and grow."
"We have been working hard to develop strong relationships within the Conveyancing and Private Client sectors, and our intention is to continue to invest in these relationships to ensure the continued growth and success of the firm."
"We are already well known as innovators with our award-winning IT systems and we are very excited about continuing to use and develop our technology to make us even more efficient."
"It is our intention to become a market leader in Conveyancing and Private Client work, and an employer of choice in the Mansfield and Ashfield areas."
Martyn Knox, Hopkins Managing Partner, said: "We look forward to growing our firm by acquiring some of Fidler & Pepper's existing work and by really getting to know our new clients in the Sutton-in-Ashfield area."
"We are very proud of our long-standing 100 year history, which allows us to support our local personal and business communities with their legal matters. We believe that our local expertise and our honest commitment to high standards is what allows us to not only provide a personal approach to legal services but to truly make a difference to improve people's lives.
"This deal will help us to secure business in the north of the county, and also give our Business Legal Services an opportunity to expand into Sutton's extensively growing business sector."
For more information about Hopkins Solicitors contact Tammy Butler, Marketing Manager on 01623 468 468 or tbutler@hopkins-solicitors.co.uk
Request a Callback