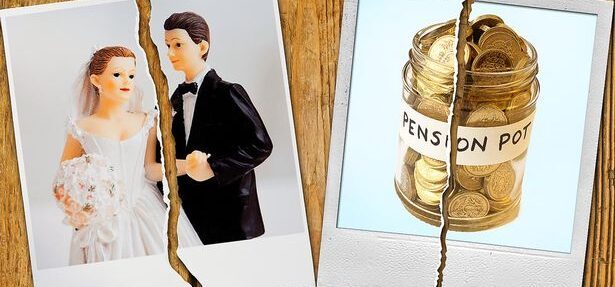 Splitting your pension during a divorce is not a straightforward mathematics equation
IMPORTANT READ: If you are divorcing from your spouse and either one or both of you has a pension that is of unequal value.
Since 2000, it has been possible to obtain a "Pension Sharing Order" in the Divorce Courts.  So, if you are not married, or in a civil partnership, you cannot obtain a Pension Share, from the person you used to live with.
A Pension Sharing Order says that at the time of the Order "X%" of one person's pension should be transferred to the other person.  This often leads to a debate over how much "X" should be.  Sometimes, one person may even say "Instead of taking X% of my pension, have something else like cash or an asset instead".
That presents us with our first problem.  A pension is not cash.  You are given a notional "cash equivalent value" that is the amount of credit that Pension B must give you if you transferred Pension A across to them. Excluding a few exceptional circumstances, the cash equivalent value isn't a pot of money you can dip into like a bank account.  Cash in the hand is almost always more valuable.  So how would you "offset" an offer of cash, against a potential pension claim?
Firstly, if you have time, read this "Guide to the Treatment of Pensions on Divorce" produced for the Courts, by the Pensions Advisory Group. Although the language of this report is quite technical, it does set out some of the challenges associated with treating pensions fairly when you separate.
The next issue is that some pension cash equivalent values are not all that they seem.  Some occupational pension schemes (e.g. the police scheme) are particularly tricky.  That is because, the police scheme produces a cash equivalent value, assuming the officer leaves the service at the date of valuation. But if the officer is 40, he or she might have another 15 years pensionable service.  So, his true pension rights, are probably worth a great deal more, than the CE provided by the Police Pension Fund.  Then there are considerations of gender/age.  Generally, females live longer.  So, if we want our (heterosexual) couple to have the same pension income, in each year of their retirement, won't the female need a larger pension scheme E, because her annual income has got to stretch over that many more years?
You are hopefully getting the idea, unless pensions are tiny do not try valuing your claim yourself, instruct an expert.  That expert can answer questions like "Assuming the couple each retire when they are 65, (or some other age), what percentage of what pension should be transferred from party A to party B in order for them to have the same income each year throughout their retirement?"   Having calculated that, the pensions expert can even say "For what lump sum of cash now, could be fairly forfeit the pension share you have calculated (offsetting)?".
And crucially, your pensions expert can advise, "Please properly value the pension rights that the parties have especially party A's large occupational pension."
A pension sharing report might sound costly, from £700 each to £2,000 each.  But imagine that you get the answer wrong, to the tune of £2,000 per year.  If you spend 30 years in retirement, over your lifetime you would have lost £60,000!  Moreover, few family lawyers are likely to advise you of the risk of doing a deal without a report from a pensions' expert.
Once you have settled on "X%" of the pension to be transferred, you will then draw up (or the Divorce Court will impose) a Pension Sharing Order.  This is served on the manager of the pension to be shared, along with the Decree Absolute of Divorce.  That pension then has four months to transfer the funds across from Party A's pension to Party B.  If Party B stays within the same scheme that is called an internal transfer.  If Party B's pension share goes into a different scheme that is called an external transfer.  Sometimes party B gets a free choice.  Where an external transfer is mandatory or where it is a free choice, Party B needs the advice of an independent Financial Adviser on "Where do I put my pension share?".
Note that when you have placed your pension share, you are a member of that new pension scheme so you have to abide by its rules, and you have the same rights as any member of that new pension scheme.  So, you can retire (draw benefits) when that scheme says you can; you can draw a lump sum, when that scheme's rules say you can.  You are not tied into pension decisions taken by Party A because you each have your own separate pensions now.
If you (or anyone you know going through divorce) wants to take one lesson from this article, it is this: Don't try to settle your potential pensions claims, or to do a deal on pensions, without professional help.
That does not mean, hiring a lawyer who is going to argue for the sake of it and make things worse.  For instance, we as a firm believe in collaborative divorce practice. Two people working together, jointly obtaining expert advice, and then coming up with a compromise, very often get a better outcome, than a couple who contest every issue and every penny in lengthy Court proceedings.
Moreover, you need not spend a lot at the outset.  For £180 (inc VAT) we will meet with you, discuss the issues, and provide detailed follow-up advice (in writing or via email) covering your options, potential costs, and the legal procedure.
For more information on the issues raised in this article, please contact David Winnett at our Nottingham office on 0115 9068 078 or email him directly at dwinnett@hopkins-solicitors.co.uk
Alternatively our highly experienced Family Law Team are located across our Nottinghamshire offices in Mansfield, Sutton and Kirkby and they can be contacted on 01623468468 or via the web enquiry form below.
Request a Callback