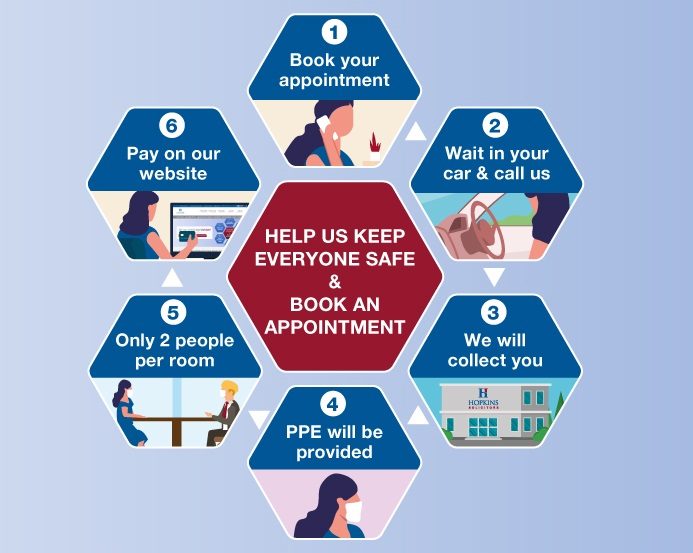 Hopkins response to Covid-19: our safety measures
We are open – but our reception will be closed – so please book an appointment
Our Response to Coronavirus – Always keeping your best interests at heart.
The safety and well-being of our clients, colleagues and communities is our number one priority. Here are some of the ways we've changed to continue supporting you during this time.
Limited face-to-face appointments at our offices are now available. In an effort to keep our clients and staff as safe as possible, although our offices are now officially open to the public, our offices will be manned by a limited number of staff and the front door will remain locked.
 If after an initial discussion with your solicitor, you determine that you need to come to our office to sign paperwork or to discuss a matter face-to-face, we will require you to book an appointment through your solicitor.
What to expect when you visit one of our offices:
Contact your solicitor to book in your appointment – make sure to confirm which office you prefer and how many people will be attending.
When you arrive wait in your car or outside the office – the main door will be locked.
Ring our office when you arrive – your solicitor will come and collect you.
Upon entering our office, we will supply you with a face mask & antibacterial hand gel.
In the private meeting room, you and your solicitor will be at least 2m apart and weather permitting – we will open the window.
After your appointment payment can be made on our website.
 *Note about our toilets: Due to the high risk of transmission, please only use our toilets if absolutely necessary. You will be asked to fully wipe down the room before you leave the room.
We're working remotely. Thanks to our highly secure IT infrastructure, the vast majority of our colleagues have been, and will continue to, work remotely. As a result, there has been no disruption in supporting our clients throughout the lockdown.
We know that WFH, for many of our staff, meant juggling home-schooling and working or caring for vulnerable isolated family members. We are extremely grateful for the dedication and passion each member of our team has in ensuring we continue to provide a high level of customer service and legal support to all of our clients.
You can sign documents electronically and make payments online. We have also made great progress to move many of our legal transactions online, including signing documents and making payments.
This has significantly reduced the necessity for clients to attend our offices, saving everyone the costs and time of commuting. It has also, in certain types of legal cases, expedited the time it takes to conclude the matter.
You can meet with your solicitor by video-call. Technology has transformed the way we support our clients, Facetime or WhatsApp or Zoom video calls are no longer just for ringing your family and friends. Your solicitor will work with you to decide which secure application is the best and easiest way for you to communicate. Don't worry if it's your first time, we will patiently walk you through installing the app and joining the video call (remember that only a few weeks ago, for many of us, it was our first time too!).
We always prefer for to see your friendly face but we understand that some clients will simply want to have a stress-free chat over a traditional phone call, and that is absolutely fine by us!
We're monitoring information from relevant authorities about coronavirus. We use this information to ensure the future health of our business, the security of our colleagues' jobs and the physical health of our staff and clients.
In addition, we have been publishing articles about how this information may affect your personal or business legal affairs.
We're monitoring court deadlines and hearings. We'll identify and keep you informed of any changes that will affect your legal matter.
Many courts have been heavily affected by the lockdown, but we receive regular communication from each of them regarding any changes or administrative backlogs that are happening. So we'll identify and keep you informed of any changes to filing deadlines, expected timescales or hearings.
Many of the Courts are starting new ways of working to increase the use of technology such as allowing us to file documents online and where possible they are holding hearings by video conference.
Please remember, if you have any questions or concerns, ring your solicitor.
We are here to help. 
Request a Callback