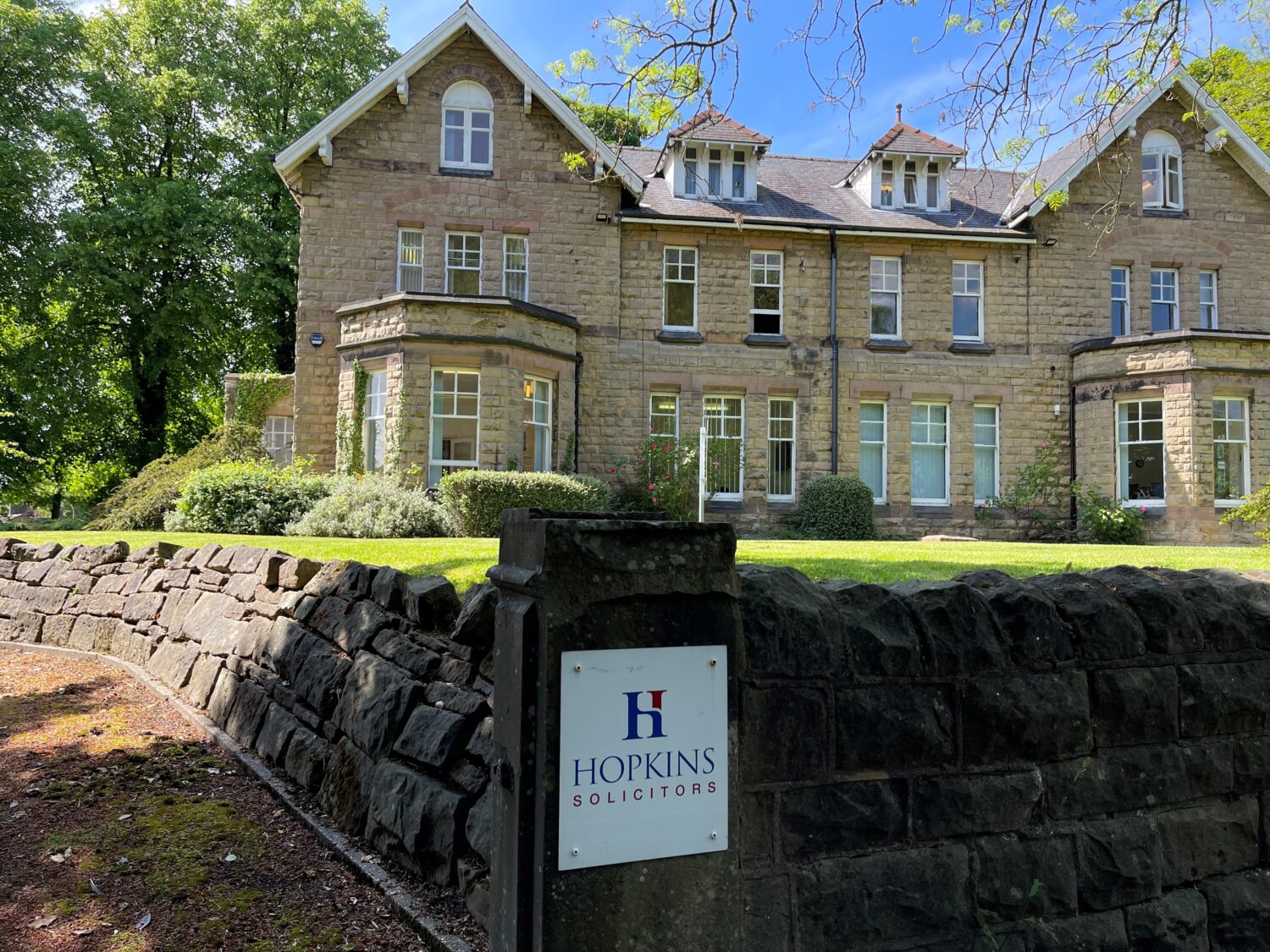 Hopkins Solicitors LLP is changing to Hopkins Solicitors Ltd
Hopkins Solicitors has changed their business structure. We currently operate our business as a Limited Liability Partnership under the name Hopkins Solicitors LLP.  We are transferring the business to a Limited Company and will, in the near future, trade under the name Hopkins Solicitors Ltd.
This change will take effect from the 1 August 2023.
Rest assured, this will have no practical impact on the day to day running of our work for our clients. The staff you know and trust are still here and cases will continue as normal. We genuinely believe any negative impact on you, is extremely limited, as it will not change the person handling your case, how the work is done or how much you pay for that work.
It is however important that you know about these changes because your legal relationship with Hopkins Solicitors LLP will come to an end on the 31 July 2023 and a new relationship with Hopkins Solicitors Ltd will start on the 1 August 2023. If a client is happy for Hopkins Solicitors Ltd to continue to act for them in their matter, they do not have to do anything. We will proceed on the basis that they are happy for these changes to occur and the changes will then happen automatically on 1 August 2023.
Below is a set of Frequently Asked Questions (FAQs). We hope that these will address any questions our clients may have.
BACKGROUND
Q. Why are you doing this?
A. A limited company is a more flexible way of running a business. We believe it will help us to continue to run a growing, successful, and forward thinking business.
Q. When will it happen?
A. 1st August 2023.
Q. Will these changes affect me negatively in any way?
A. No. We have considered this very carefully, especially as our relationship with you is underpinned by your trust in us. We would not do this if we thought this was against your interests in any way.
RUNNING YOUR CASE
Q. Will my solicitor change?
A. No. The day to day running of your matter will be completely unaffected.
Q. Will your place of business; phone numbers or email addresses change?
A. No. All of our contact details will remain exactly the same.
Q. Will your charges change?
A. No. Everything, including our fees, will remain the same as they are now. This change will not affect you financially whatsoever.
REGULATION & INSURANCE
Q. Does this affect in any way your regulation or professional indemnity insurance cover?
A. No. Our regulator, The Solicitors Regulation Authority have been made aware and have specifically approved this change. You are welcome to visit their website www.sra.org.uk to confirm the content of this letter by searching for our new SRA No 823648.
Q. Does this in any way affect your professional indemnity insurance cover?
A. No. Our insurers are fully aware of these changes. The level of insurance cover we have remains exactly the same. Your work is still fully insured.
BANKING
Q. Will you be changing banks?
A. No. Our bank remains the same and they are fully aware of and have approved these
changes.
Q. Will you be changing your sort code or account number?
A. Yes. The bank account number for our 'client account', where your money is kept separate
and safe, will change. As we must have new set of accounts for Hopkins Solicitors Ltd. Any
money in our current bank account will be transferred automatically to our new account.
Q. What happens if I pay money into your old bank account?
A. Don't worry. We will be keeping our existing bank account open during this transition period
and any money will be automatically transferred to our new bank account.
Q. What if I am paying you by direct debit?
A. In due course, we will be in touch to ask you to complete a new direct debit mandate. In the
meantime, your payments will continue to go into our existing bank account and we will
automatically transfer it to our new bank account.
Q. My case is funded by Legal Aid. Will anything change?
A. No. The Legal Aid Board have approved this change and your Legal Aid certificate will
transfer automatically; you don't need to do anything.
WHAT TO DO IF YOU HAVE QUESTIONS OR WISH TO OBJECT?
Q. I don't want to continue my case under your new Ltd company – what can I do?
A. Please contact us so we can try to address any concerns you have. If you decide you want
to object to the transfer, we will, most reluctantly, have to bring our relationship with you to
an end. This will mean you will need to find a new law firm to take over your case. We will
invoice you for the work that we have completed and make sure your file is smoothly
transferred to your new solicitors.
Q. Who to contact if I have any questions or concerns?
A. Please call your solicitor that has been working on your case. If they cannot immediately
answer your concerns, they will transfer your call over to a senior member of staff.
Alternatively, you are welcome to email your concerns to rtruscott@hopkins-solictors.co.uk.
We will ensure you receive a reply quickly from your solicitor or a senior member of staff.
Request a Callback