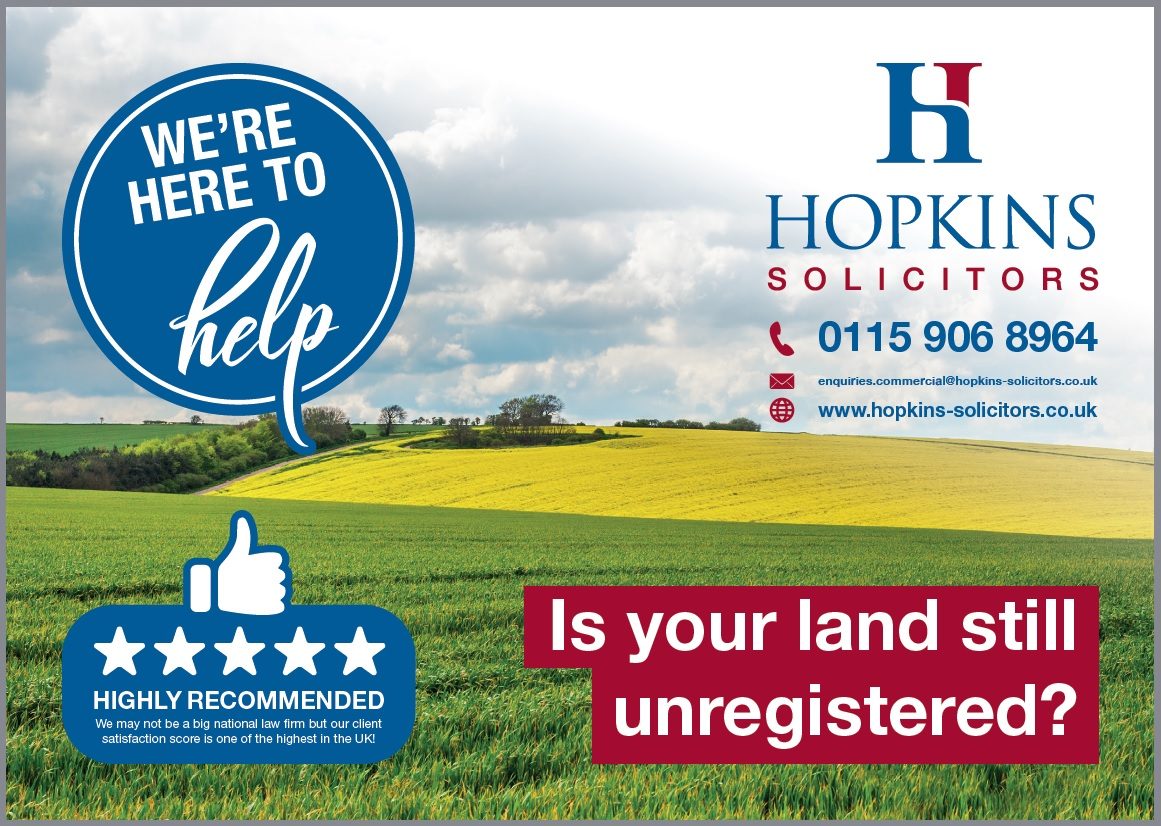 Is your land still unregistered at HM Land Registry?
Since the 1st of December 1990 all land and property in England & Wales has been subject to compulsory registration with HM Land Registry, however 13% of land remains unregistered*.
Whilst land will usually remain unregistered because a compulsory registration has not been triggered, for example, by a sale or transfer, long lease, mortgage, or the granting of rights and easements there are several points to consider when deciding whether to opt to voluntarily register your land:
Security of title – You will receive a publicly available electronically available, state-backed registration giving greater security of title. This avoids the potential nightmare of reconstructing title deeds or proving ownership where title deeds are lost, damaged, or destroyed. Whilst some may consider the register is open to the public as a privacy issue, in reality the majority of those that use the register to find you will be people with a genuine interest making you a proposal that is of interest to you, e.g. purchase, development, diversification opportunities or renewables opportunities. It is worth noting that if the land is owned in a trust, only the legal owner is shown on the register, the trust arrangements are kept private.
Greater protection against adverse possession/squatters' rights – Having a registered title means that you will receive notification from HM Land Registry should someone make a claim over your land.
Clarify boundaries and general extent – HM Land Registry will produce an official title plan based upon the ordnance survey showing the general extent of the land that you own. Not only does this help in managing the extent of land in your portfolio, but it also helps identify where neighbours have encroached on your land.
Certainty and simplicity in the conveyancing process – Many solicitors and conveyancers will not deal with unregistered land owing to the uncertainty as to the extent of the land you own and the rights and burdens which the land is subject to. This can result in lengthy delays on the sale of your land. A registered title sets out your ownership with reference to a description and a plan, and those matters which benefit and burden the land.
Ability to use land as security – Mortgage lenders will usually require land to be registered before considering it sufficient security for loans.
Evidence of ownership – You will have clear evidence of ownership in a single concise document. This is often needed when proving ownership to third parties, for example for blight payments, wayleaves, and land promotion agreements.
Reduction of future costs – Whilst voluntary registration does involve an upfront cost, HM Land Registry offer a 25% reduction on registration fees where you choose to voluntarily register your land. Spending the money now potentially saves future costs and more crucially, future time, especially if you are made a time sensitive offer later on down the line.
* Latest published figures in September 2019
We're here to help:
Contact our Land and Development legal experts, for a free initial telephone consultation, to answer questions you may have, discuss your personal needs and to obtain a quotation should you choose to voluntarily register your land and/or property with HM Land Registry.
To request a callback please fill out the enquiry form below or ring us on 01623 468 468 or 0115 910 5555.
Request a Callback