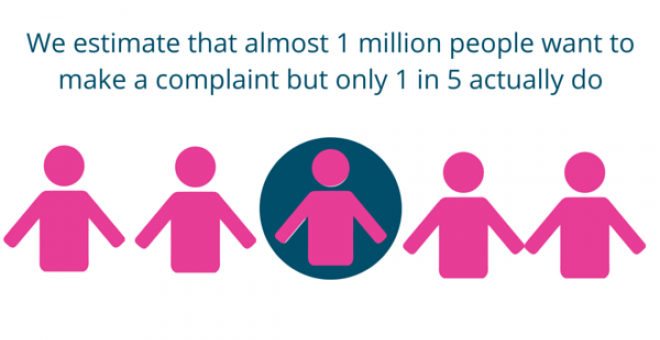 NHS Complaints procedure
Below is a guide on how to complain to the hospital or your GP about the care you have received.
Are you unhappy about the treatment you have received what should you do? Sometime treatment can go wrong and you are unhappy about the care or services you have received.
If you feel you have received substandard medical care and are unhappy about the medical treatment you have received you should lodge a formal complaint with the healthcare provider and ask them to investigate what happened.
NHS Patients have a right to submit a formal complaint to the healthcare professional (hospital or the GP for example) if they are unhappy about their treatment or services provided this is confirmed in the NHS Constitution.
File a formal written complaint to the NHS practice or Hospital
You should complain to the healthcare provider who provided the treatment/service so this should be the hospital or the GP practice. The complaint should be addressed to the most senior person at the organisation i.e hospital's Chief Executive or the GP Practice Manager.
Whilst you can complain verbally it is best to complain in writing to the hospital/GP so you have documentation of what you complained about and when you filed the complaint.
Each healthcare provider will have their own complaints procedure particularly GP practices. The easiest way to find out who to direct your complaint to and where and how to send it can be found on the practice's or hospital's website. Quite often there is an online form you can submit your letter on.
Make sure if you are unhappy about several different healthcare providers, that you submit a complaint to each of them, not just to one.
What to include in your NHS complaint
You should set out the factual background, make sure to include dates in the form of a timeline. Explain what exactly it is you are unhappy about. State what you want them to do about the complaint, it may be that you simply want them to correct the problem. Finally, ask that they investigate and respond to your complaint and give your contact details so they can send their reply to your home address or your email.
How long you have to file an NHS complaint
Your complaint should be made within 12 months of the incident or within 12 months of the issue coming to your attention.  This time limit can be extended if you can show a good reason for the delay in making the complaint.
Acknowledgement by the NHS of your complaint
Once you have posted or submitted online your complaint you should receive an acknowledgement and you will usually be provided with a timescale as to when you can expect to receive a response.  We suggest you print this out for your own records. This timescale will depend on the nature and complexity of your complaint. The matter will then be fully investigated and you should be provided with a response.
What if you don't recieve a response about your NHS complaint?
If you do not receive a response or you are still unhappy you can complain to the relevant ombudsman, for NHS complaints this is the Parliamentary and Health Service Ombudsman.  This is also a good time to contact a medical negligence solicitor to discuss your case so that they can guide you through the process to ensure you are gathering all the evidence you'll need. We offer a free medical negligence consultation, so you won't have any legal fees to pay at this stage.
Why is it important to file a complaint about poor medical care you are receiving?
Although you may feel anxious about making the complaint, it is important to note that the NHS have a duty of candour and they are required to be open and transparent. Most importantly, the fact that you made a complaint should never affect the quality of treatment you receive.
An NHS Complaint can be useful to ensure that matters are brought to light and to prevent future incidents happening. This may help to stop another patient experiencing the same problems in the future.  This allows the NHS to be made aware of mistakes and to learn from them. So if you are worried about upsetting your GP or Doctor, bare in mind two things. First they are not likely to even know about the complaint as it's usually handled by their insurance claims department. Secondly, ensuring they are aware of the problem will hopefully stop any patients in the future having to experience the same pain and stress you have been through. It's a selfless act, not a selfish one. 
In addition, an NHS Complaint response is very helpful for our team to assess your case and for us to decide if we feel a claim against the GP/hospital for compensation is likely to succeed or not. It is therefore something we would highly encourage you to do first.
The complaint should provide answers about the care you received and you may find that once you have received the response you are happy with the explanations given, their offer to correct the problem, resulting in you potenitally not even needing take this matter any further with a legal medical negligence claim.
It may be that following the response you are still unhappy and wish to consider taking this matter further by way of a claim for compensation.
How we can help you
We have a friendly & local Personal Injury and Medical Negligence Law Team that has a strong local reputation not only for helping our clients make a successful claim, but we happen to have one the highest client satisfaction rates in the country.
We offer a free initial consultation to hear your story, understand what happened, it's effect on your life and help determine if you have grounds for a successful claim.
We will take all the financial risk and represent you on a No Win, No Fee basis – so it won't cost you any money throughout the process of filing your claim, and if you don't win you won't owe us a penny.
Speak to a member of our Medical Negligence team today in Mansfield and Ashfield on 01623468468 or in Nottingham on 0115 910 5555.
Alternatively use the enquiry form below and an experienced member of our team will be in touch within 24 hours.
Request a Callback