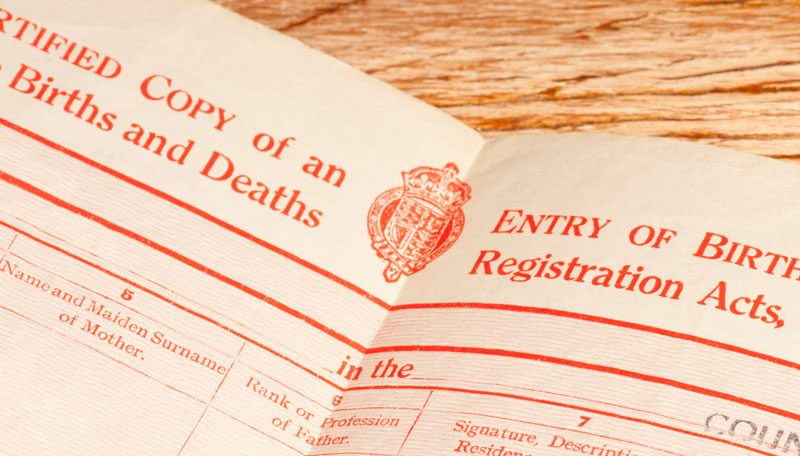 Declaration of Parentage
A Declaration of Parentage declares whether a named individual is the legal parent of another person under English law. It can be used in a range of situations, including:
Wanting to remove an inaccurate father's name on your child's birth certificate
Wanting to add an accurate father's name to a child's birth certificate
To resolve an issue or dispute about legal parentage (inheritance) and financial provision (child maintenance) for a child or individual that is raised when the birth certificate is not accurate
Or if an inaccuracy is uncovered about biological and legal parentage following a direct-to-consumer DNA test (e.g. following a DNA test through AncestryDNA, 23andMe, MyHeritage).
Applications for a Declaration of Parentage can involve complex legal issues concerning family law in the UK, involving a range of legal issues from personal identity, medical and genetic history, citizenship and nationality, parental responsibility, financial rights, inheritance, contact rights, care and upbringing of a child.
Although some scenarios may seem very straight forward, we still would recommend that you receive advice from a family law solicitor to ensure you are fully aware of all the future implications are that adding or deleting the parent may have on you or the individual.
Removing a child's inaccurate father from their birth certificate and leaving that space permanently blank, along with a request to change the child's surname.
Here is one case we recently helped a client with, that is a fairly common scenario.
The mother was in a long-term relationship. She had a one-night stand. She fell pregnant. She did not know which one was the father.
The man from the one-night stand did not want anything to do with her, the pregnancy or child. As a result, the mother chose not to put his name on the original birth certificate.
Her partner stayed with her and chose to raise the child as his own. As a result, the mother put his name on the original birth certificate.
Eventually, she and her long-term partner separated and ended their relationship.
For legal reasons after the break up, she wanted to know which man was the child's biological father so she secured a DNA test which confirmed her long-term partner was not the father. It was the man from the one-night stand.
The mother decided that she no longer wanted her ex to be inaccurately listed on her child's birth certificate, nor did she want the child to hold his surname. In addition, she had no interest in adding the real biological father's name to the birth certificate, she chose to leave it blank.
Her ex-partner, having bonded with the child, would not consent to have his name removed from the birth certificate or the child's surname changed. So, the mother contacted us for help.
We applied to the court for a Declaration of Parentage and also to change the child's name. We built up a very solid case and presented it to the court. The Magistrates agreed that there should be Declaration of Parentage and an order to change the child's name. Our client was very happy and received exactly the result she was hoping for.
Remember, that it's not always the mother that wants to remove a father's name from the birth certificate. 
In some instances the man that is on the birth certificate, may want his name removed if he knows or believes he's not the biological father and does not want to be legally required to pay child maintenance or allow the child to be a beneficiary of his estate when he passes away.
In other instances the child on the birth certificate, after taking a DNA test, may uncover the man he/she thought was their father, actually wasn't. Some children may choose to leave their birth certificate as is, and others may want the inaccurate name removed.
It's important to remember that birth certificates started being recorded in the UK in 1837 and they are required by law to be registered within 42 days of a child's birth. They are a vital legal document that affects everything from a child's citizenship, ability to enrol in school or proving a right to inheritance. Because it is such an important legal document for the child, it is meant to be 100% accurate. It is not meant to be used as a tool to manipulate the law, the child or the father.
How Hopkins Solicitors Can Help You
Hopkins Solicitors has one of the largest family legal teams in Nottinghamshire, with a significant amount of experience handling many different types of family issues and dynamics.
We will provide you upfront with clear, fixed fee prices so you know right from the start how much our legal support will cost you. For lengthy complex matters we can offer a flexible payment plan to help you budget along the way.
How our Family Law Solicitors can Help You
First, we will have an initial brief phone consultation to understand your problem and who within our team is best suited to help you.
Second, If you aren't yet sure you are ready to 'push the go button' we offer one-hour in-depth fixed fee legal consultation for £180 (inc. VAT).This meeting will give you legal advice specific to your personal situation and if you choose to instruct us to act on your behalf your £180 will act as a deposit and be put towards your future legal fees.
What if you don't have enough funds to afford a solicitor (and your matter doesn't qualify for legal aid)? At the end of the day we are still here to try to help the people in our community, it's why we chose this career. So we will help in any way we can and we will do our best to refer you to charities or other professionals that might be able to help support you and/or send you links to where you can do it yourself online.
 Book a consultation today
 We are happy to offer initial consultations by phone, video call or in-person at any of our 5 offices in Mansfield, Sutton, Kirkby or Nottingham.
If you would like to speak to a member of our Family Law Team about this topic, or another other family matter you are facing, call us on 01623468468 or complete the enquiry form below and a member of our team will be in touch within 24 hours.
Request a Callback