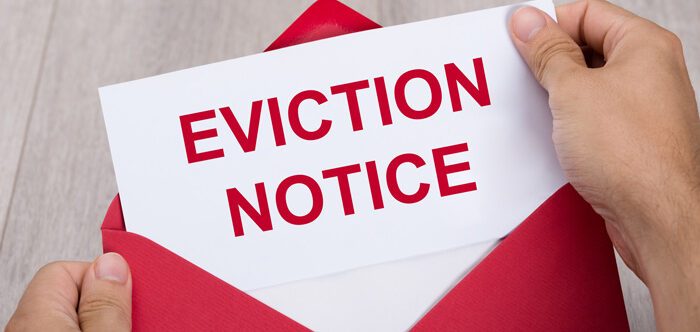 Legal guidance for tenants – past due rent & evictions
The govenment's Covid-19 stay on Possession Proceedings was lifted on the 20th of September 2020, which means in certain circumstances your landlord can now start the process of eviction if you are behind on your rent.
Below are some of the most common questions we are currently being asked by tenants. Alternatively you can read the full official and most recent government guidance for landlords and tenants.
Q: I'm behind on rent and my landlord is threatening to kick me out, can he/she do that?
A: A Landlord can threaten to start the eviction process if rent remains unpaid. It is being encouraged now more than ever that landlords and tenants should communicate about potential arrears before they get serious and build up.
In most cases, a Landlord cannot forcefully evict someone without going down the right channels i.e. serving a valid notice and then issuing a possession claim following the expiry of the notice. Even if a possession order is made, the landlord would still be required to obtain a bailiff's warrant before they are able to physically take control of the property once again. Anything short of this, and the tenant could have a claim for unlawful eviction, depending on the circumstances surrounding it.
Q: Are there any exceptions that stop them from being allowed to evict me?
A: Assuming your landlord has followed the correct legal process as stated above… A tenant may have a defence to the possession proceedings, should they be issued, which may allow them to stay in the property.
For example, all notices must be in a prescribed form and what is required will depend on what notice is used. There can be legal defences or counterclaims against a landlord's possession claim and what can be relied upon by the tenant will again depend on the notice, the tenancy and the circumstances of the client i.e. you could bring a counterclaim for disrepair or some cases a counterclaim relating to the non-protection of a deposit.
Q: How many months behind on rent am I allowed before they can start proceedings to kick me out?
A: Currently, this is an open-ended question. It should be noted that when using a section 21 notice, there doesn't have to be a reason for eviction and will succeed as long as the tenant doesn't have a defence.
Depending on various factors such as the level of rent arrears, the type of tenancy and the notice served, landlord's may be able to take possession of a property sooner than anticipated, despite the Covid-19 pandemic.
For example, for the majority of tenancies including the most common, Assured Shorthold Tenancy, if there is at least 6 months' rent arrears, the notice period to be given before proceedings can be issued in the court is four weeks. Ordinarily, for an Assured Shorthold Tenancy, notices served between 29th August and 31st March 2021 would have to give a 6-month notice period (unless there are other exceptions that apply i.e. anti-social behaviour).
In terms of minimum rent arrears, if the landlord relies on a typical section 8 notice, he could rely on different grounds depending on how much the arrears are at the time of the notice. A landlord could basically issue based on late payment of rent or any amount of rent as long as they rely on the right grounds.
Q: How long does will the court process likely take? (e.g. how long do I have before I lose my home)
A: Say that the Landlord has to wait a maximum of 6 months for the notice to expire and he then issues the claim straight away… The claim may then be issued in a matter of a few weeks and then served on to the tenant. It may take a further month until the case is heard for a first hearing. If there is no defence or the tenant doesn't turn up, a Possession Order may be made there and then.  Standard Possession Orders are 14 days until the tenant must leave the property.
It's important to note, if the tenant submits reasons for why they would suffer exceptional hardship if they were evicted, the court has power to order Possession Orders up to 42 days (so 6 weeks until they have to leave). Once a Possession Order expires, if the tenant hasn't left, the landlord can then instruct bailiffs which typically takes up to a further month.
Assuming the claim is defended and then solicitors get involved to argue the case, you could be looking at a case that lasts a year once issued, before any order is made, if not longer.  Literally all depends on what is being relied upon by both sides. If there was a disrepair counterclaim for example, you're looking at another 2 months in the schedule to allow for an expert report to be produced.
Q: I've lost my income due to Covid-19 and I'm scared I'll be homeless, who can help me if that happens?
A: Firstly, it's good to consult with your landlord as stated in the first question.
The Citizens Advice Bureau are good with debt advice and advice on benefits.
You can also consult the Money Advice Service about your debt.
If you are evicted and have nowhere to go see help from local homeless, shelter or housing charities such as Framework.
If you become homeless, you need to approach your Local Authority and seek advice on making a homeless application. The council will then assess your needs and assess whether you fall into Priority Needs and whether there is then a duty to house you. Not everyone will be in Priority Need even if they are homeless, so it may be a case where the council will talk to you about which band you fall into and help you get on the Housing Register to help you bid for a property.
It is important that at all times, you (the tenant) do not make yourself intentionally homeless at any stage in the period up to a bailiff warrant i.e. by giving up your property. If you do, then it will be difficult to get help from your Local Council. As a caveat, getting yourself into rent arrears itself may pose that same issue, technically it depends on what your defence is and why it is you were in arrears in the first place
Hopkins are one of the few law firms in Nottinghamshire that may be able to take your case on a Legal Aid basis. Legal Aid eligibility will be assessed during your first appointment, learn more about eligibility by visit our Housing Page.
If you are a private or council tenant and have questions about the above information, please ring our experienced and friendly Housing Team in Mansfield on 01623 468468 or in Nottingham on 0115 910 555. Alternatively use our web enquiry form below and a member of our team will be in touch within 24 hours.
Request a Callback