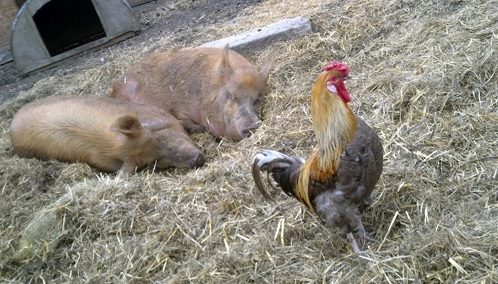 "No Pigs, Pigeons or Poultry" – Property Restrictions
We often come across restrictions on property when we are asked to act for buyers and sellers. 
These restrictions or 'restrictive covenants' as they are commonly known bind the land indefinitely and can be historic or newly imposed at the time of purchase.  It is usual to find these restrictions when you buy a new build property.  In those cases they are normally limited to ensuring there are not whole scale changes to the estate before the developer has had the chance to sell the last plot.  They can be used effectively to ensure that every on the estate abides by the same rules.
The type of restrictions can sometimes be used to date the property. Restrictions range from the tried and tested 'no pigs, pigeons or poultry' which was a popular restriction in 1930's built properties to the more unusual type restricting the sale of intoxicating liquor or using the property for candle making!
Often they relate to the future development of the property and restrict expansion, alteration or diversification.
The reason we get involved is because the restrictions can affect the value of the property or your ability to make the land useful or profitable in the future.  This can be a particular concern in the case of agricultural land or land that has not yet been developed but might be ripe for residential development.
Unless they are expressed to be personal to the buyer the restrictions will continue to bind the land in the future unless they are specifically removed.  If you are worried about a restriction on your property we can help you to deal with it.
This can involve:
approaching the party who has the benefit of the restriction and obtaining their consent. (They may want paying!)
applying to the Land Tribunal for removal, if the restriction is obsolete or prevents reasonable use of the land.
Sorting out insurance
The option to choose often depends on the particular circumstances where our knowledge and experience can make all the difference.
Why Hopkins & how we can help
Hopkins are a law firm with a highly regarded local reputation and we have one of the highest law firm client satisfaction rate in the country. We understand how frustrating and confusing the conveyancing process can be so our legally qualified staff are here to support and guide you clearly through the process.
When it comes to buying a home, we know it's all about making the purchase go as quickly as possible and being able to plan for the legal costs. Our fees are extremely competitive and also transparent right from the start so you won't find any hidden and unexpected charges that you haven't budgeted for.
In addition, we have highly experienced staff on site that can help with other legal aspects that might be tied into your purchase such as first-time buyer schemes, co-habitation agreements for unmarried couples buying a home together, writing or updating your Will to include your new asset or even landlord-tenant agreements if your purchase is a letting investment.
Our online search facilities and automated case management system keep everyone informed through the stages, together. But it's more than automation. It's about our personal face-to-face service. You aren't just a number to us, you are a person, and we want to protect your best interests now and in the future.
In the end it's about buying your home as quickly and hassle-free as possible.
Try our quick and easy FREE INSTANT CONVEYANCING AND TAX FEES CALCULATOR to find out exactly how much you'll need to budget for, our Fixed Fees start at only £570.
Or pick up the phone can give our conveyancing team a ring on 01623 468468 or 0115 910 5555 or use the enquiry form below and someone will get in touch within 24 hours.
Request a Callback